What is native advertising?
According to Wikipedia
Native advertising is a type of advertising, mostly online, that matches the form and function of the platform upon which it appears. In many cases, it manifests as either an article or a video, produced by an advertiser with the specific intent to promote a product, while matching the form and style which would otherwise be seen in the work of the platform's editorial staff. The word "native" refers to this coherence of the content with the other media that appears on the platform.
Let me explain what it means in practice. Native advertising is about coming up with ads that don't look like ads. To make it possible, widgets have been invented. These are special advertising units designed to look like they are a natural part of the sites that they are displayed on. I'm sure you have seen native advertising widgets before, let me show you an example: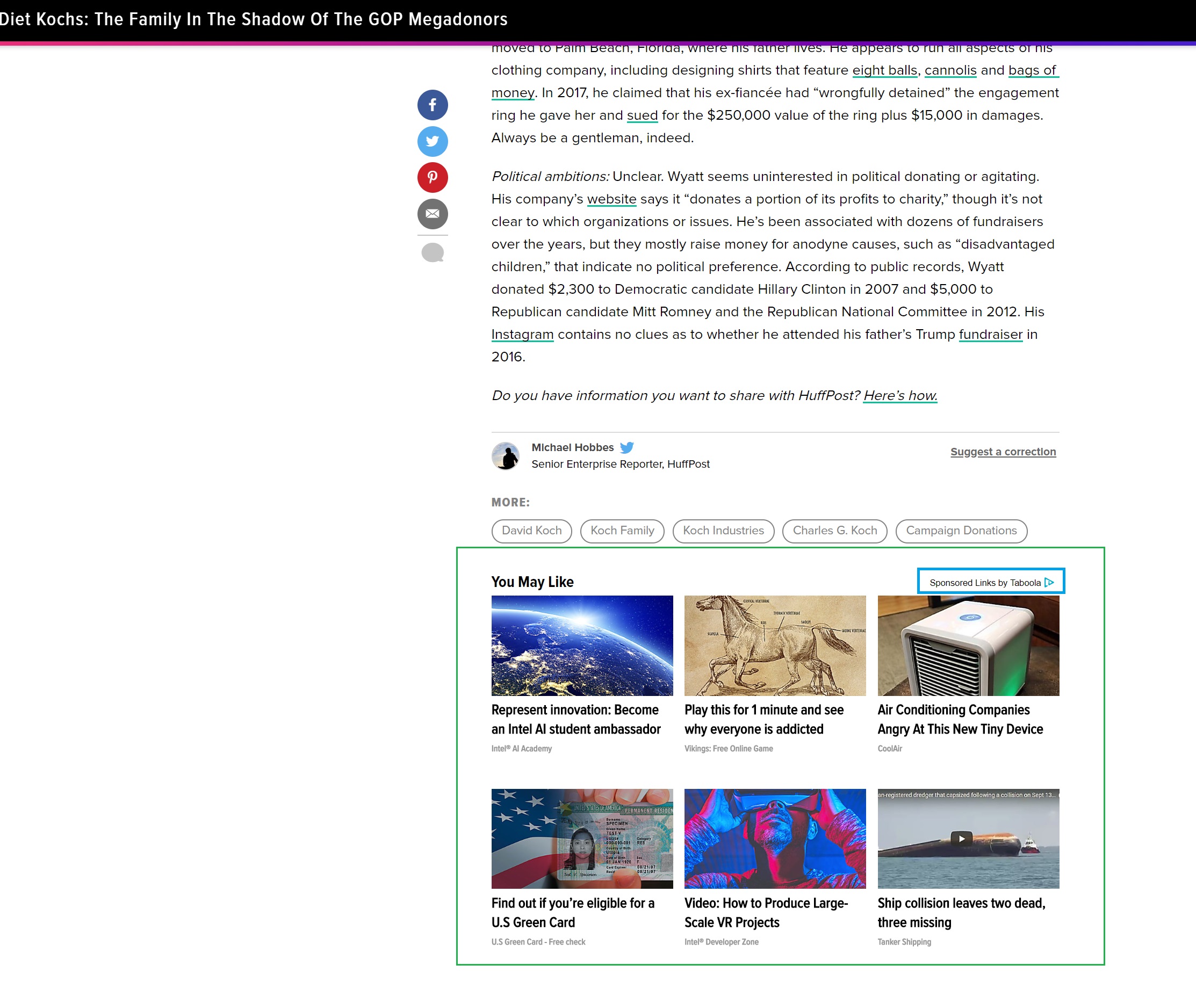 How can affiliate marketers benefit from it?
It's simple. Banner blindness is a serious problem nowadays, so everyone who can offer you a platform allowing your ads to look like genuine elements of sites they are displayed on, is a blessing. Here are some native advertising networks we recommend for affiliate marketers:
Outbrain
Outbrain is an online advertising network specializing in presenting sponsored website links. It cooperates with publishers and marketers in more than 55 countries. Outbrain's promoted articles are found on more than 35,000 websites. Although you can reach plenty of customers using Outbrain, the network itself is not for everyone – you will not run the campaign if your company is registered in some European countries, for example in Czech Republic.
Taboola
Taboola reaches over 1 billion unique users every month, by recommending editorial and sponsored content across the top publishers' sites around the world. Currently Taboola offers non-intrusive, adjustable native ads formats - static text + image, and video ads. They appear in feeds of publishers such as MSN, Huffington Post and many others. Taboola carefully selects its publishers, which reduces the risk of click frauds or low-quality traffic to minimum. It's great for promoting content, but offers tools for product ads and retargeting as well. Unfortunately, using Taboola's platform is a pain in the butt – it's a little bit outdated and works quite slowly so you need to be very patient to handle this.
Revcontent
Revcontent is a network with over 250 billion content recommendations per month. Their ads are being displayed on various websites, ranging from small specialized blogs to big portals, such as Forbes, Newsweek, Lifestyle and others. It is certainly a good idea to choose Revcontent, but you need to be very careful with their push placements and other fraudulent placements as these could generate a lot of low quality traffic, sometimes exceeding your daily spend limits.
MGID
MGID is an audience development network of 1000s of premium publishers. It allows to reach customers in over 225 countries and its monthly reach is over 130 million unique visitors (according to comScore). These numbers are very impressive for sure but you need to prepare for some of MGID's inconveniences. For example, you will not be able to create some whitelisted campaigns at all as there is no such feature.