AWC is one of the biggest affiliate marketing conferences in the world. It started in Bangkok in 2015 but it is much more than a conference. It's a community, a group of people learning from one another, growing together and helping each other. Last year LingProfit team had a chance to be a part of this huge event and now we will share with you some really interesting advertising tricks presented during the speeches.
#1 It is completely doable to spend $100-$150k daily on FB on health and beauty
If you are responsible for health and beauty, dietary supplements or any other campaigns with similar marketing strategy we're sure you have already tried FB ads and we're also pretty sure that you have put a huge effort to generate more and more profitable traffic. And in the end, you have failed. There are lots of online advertising specialists that would tell you that you did everything you could and there's nothing more to do and FB is just a strange tool that won't allow you to spend more and more and running profitable campaigns at the same time. Either your range is narrow and your campaigns are profitable or your range is wide but your campaigns are lossy. And here comes Scott Rewick, Co-founder & President in Lexicon Digital Media Group and his "How I got to running $150k daily spend on health and beauty – FB compliant" speech. Below, you can see what's important according to Scott: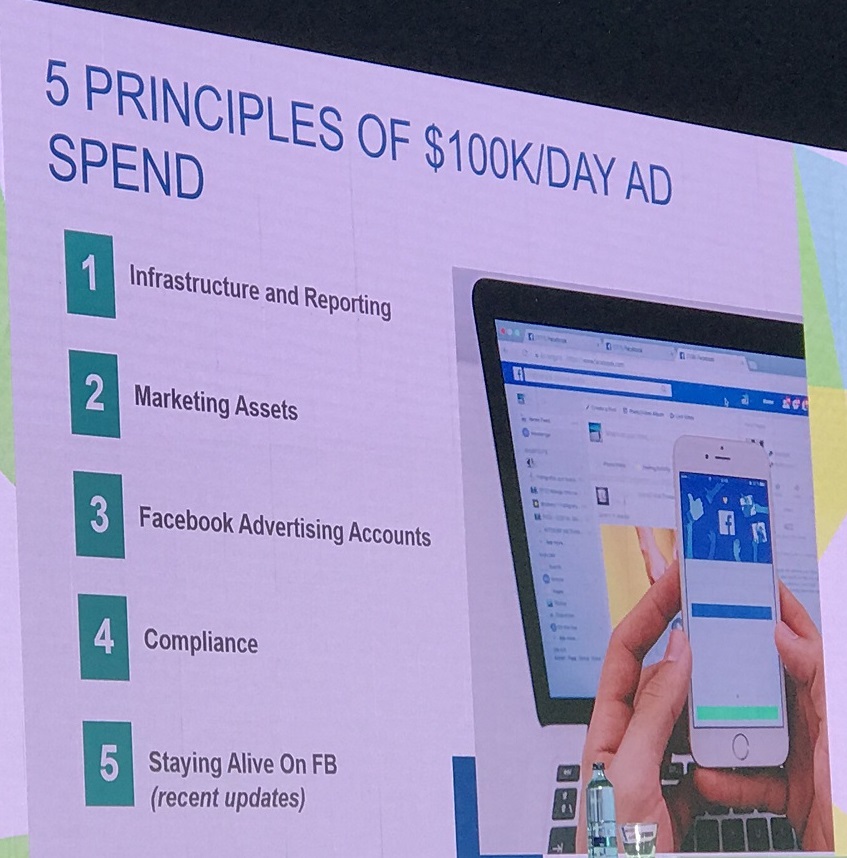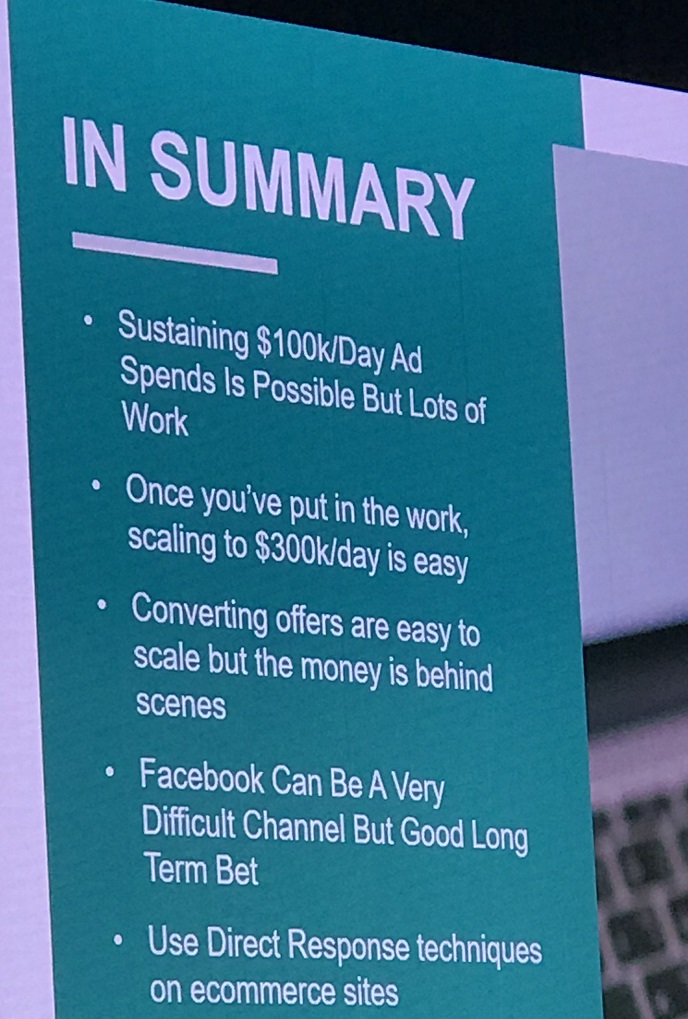 Summing up Scott's speech, here's what you need to consider in order to run profitable campaigns on FB:
1. Technology is your friend, start using tools such as:
Amazon web services
Click funnels
itPath
LimeLight
2. Don't forget to provide the right infrastructure by using at least two of the following providers the same time:
stripe
Braintree
PayPal
Elavon
3. Do your homework and search for examples of perfect ad creatives and landing pages as: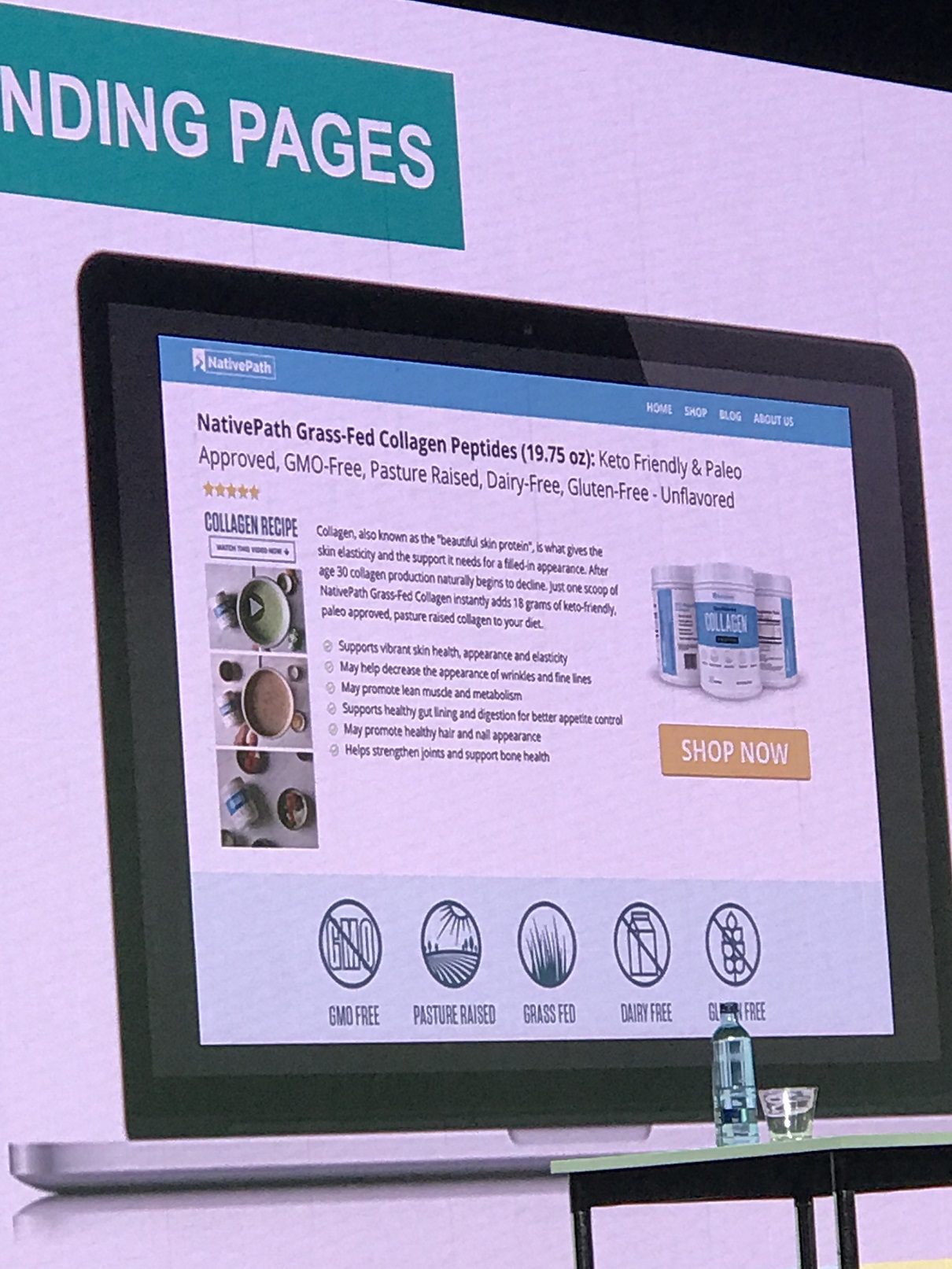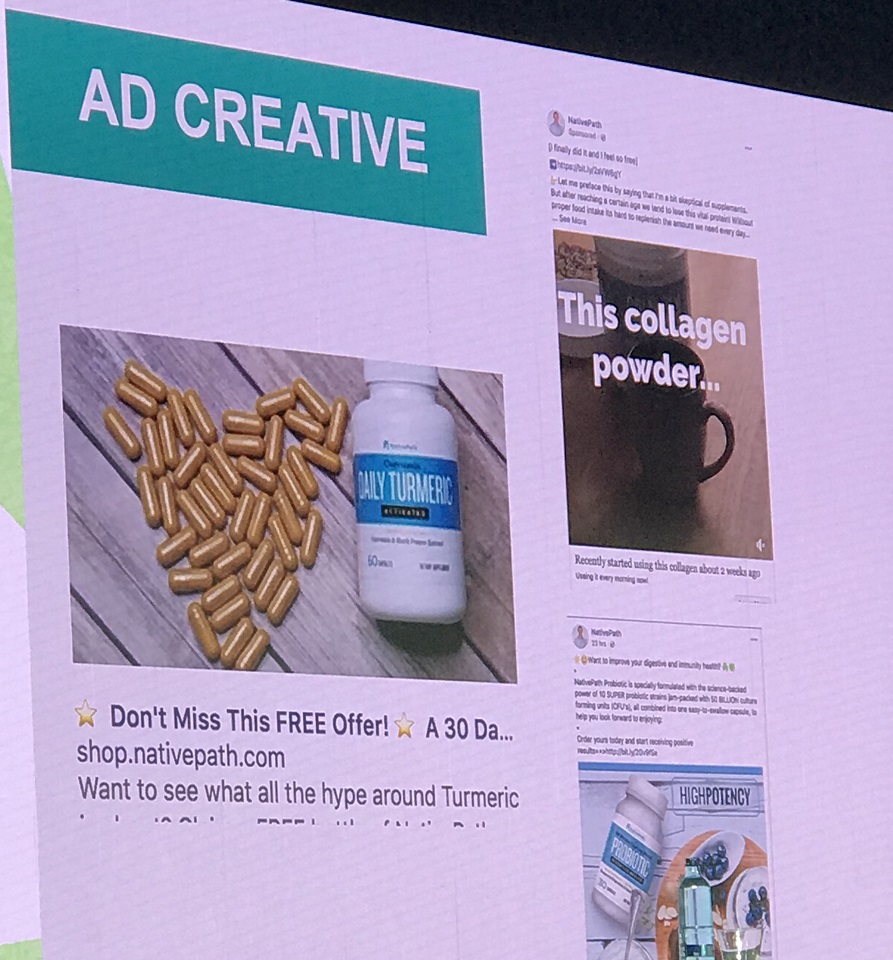 And one more tip, this time from Maor Benaim, CEO in Wolf Marketing:
4. "The [FB – author's note] pixel is your friend. When accounts die, the pixel stays".
5. Prepare upsell/downsell paths before going live with the campaign.
#2 "Winning products have nothing to do with the product"
The conclusion is exactly the same as the conclusion you could already find in our last post You don't need a good product to make a great sales. Or do you? Here are some tips from Ben Malol, CEO in Ben Malol Here LLC and his speech (Why people buy: how to setup any product for success through story marketing):
Marketing can turn any product into a winning product. (Don't confuse Advertising with Marketing).
First, we need to understand what makes someone buy something.
People don't buy products. They buy stories or more specifically, they buy the story that's playing in their mind when owning the product.
#3 Surveying your traffic
Last but not least, from Mohamed Ali Aguel, CEO in Digital Marketing Triumph: use exit pop-ups to ask people two important questions:
Why didn't you buy from us today?
What can we do to serve you better?
Answers to these two questions would probably be very simple, but these could be things that you would never come up with on your own.
Short review of AWE Barcelona 2018
Cool
Speakers - it was a really interesting mix of e-commerce, general business and affiliate marketing topics. The speakers were perfectly prepared and the Q&A part ran smoothly.
Exhibitors - a large variety of booths: advertising agencies, affiliate networks, auto-optimization tools or native advertising networks.
CCIB (Barcelona International Convention Centre) - a huge place, well-equipped, many hotels and airbnb places to stay near and the event was very close to the beach so during the breaks you could look at the sea.
Not-so-cool
Networking events & after parties - it was definitely too loud to talk comfortably during networking events - loud music wasn't a good choice. And the second day after party misunderstanding wasn't cool, too. It turned out that there was no official after party although official information indicated otherwise. There were a lot of people that were counting on this party.
STM Mixes - great idea but not so great execution. People gathered there just to talk on all topics, not necessarily the mixer ones.
Summing up, the AWC is a must-attendee conference if you want to increase your sales, learn new tricks and stay in business for a long time. You only have 7 days to this year's edition! Let's meet there!